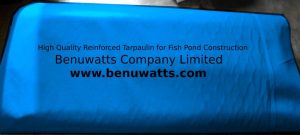 Reinforced Tarpaulin (RT) from Benuwatts can be used in combination with a framework (made of galvanized pipe, wood, bamboo or even pressure pvc pipes) purchased separately from local vendors to set up mobile fish ponds.
With this type of fish pond, there is no need to put up with high cost and all the inconveniences that come with concrete, earthen or plastic ponds.
This modern fish pond is not only durable and less expensive, but can be easily installed/ uninstalled, and does not require any sort of permanent construction on land – thereby making it suitable for tenants, indoor/outdoor usage (provided there is adequate aeration), and also well-suited for  backyard fish ponds as well as large scale fish farm projects.
PRODUCT SPECIFICATION
Dimension:
Length: 8ft
Width: 18ft
Height: 4ft
Volume:
Liters: 16,310
US Gallons:4,308
Stocking limit (Estimate):
Up to 1280 for Juvenile catfish
640 Adult Catfish (of about six months)
This is only an example. Customers with good management practices usually stock more.
Colour:
Sometimes available in green, yellow, ash, or blue colour (please note that only colours available in the warehouse at the time of order will be processed and shipped to customer)
Suitability:
Suitable for backyard or small scale fish farms in the compound, as well as large scale projects.
Benuwatts Reinforced Tarpaulin fish pond can be used for the farming of shrimps, prawns and all tropical fishes including Clarias gariepinus, Heterobranchus longifillis, Hetero-clarias and other Catfish species; Tilapia and other Chichlid species, etc.
Type/Quality:
Ship grade (applicable in ship building where high tensile strength is required to withstand enormous tidal waves at sea)
Thickness:
0.54 millimeter (540 microns) thickness
DELIVERY LOCATIONS/CONDITIONS:
By default, Benuwatts employ the services of reliable transport companies like Ifesinachi Transport Company, Faith Motors, Rivers Transport Company (RTC), Akwa Ibom Transport Company (AKTC), Agofure, GUO, etc.
On rare occasions, usually with specific instruction from customer, is NIPOST used (NIPOST transportation may take up to three weeks, sometimes).
For onward pick up by the customer, product is sent to Motor Park of respective transport company located in the following cities (for onward pick up by customer):
FCT, Abuja – Utako district.
Abia State – Umuahia.
Akwa Ibom State – Uyo.
Anambra State – Awka, Onitsha, Nnewi.
Bauchi State – Bauchi.
Benue State – Makurdi.
Cross River State – Calabar.
Delta State – Abraka, Asaba, Sapele, Warri.
Edo State – Benin.
Enugu State – Enugu.
Jigawa State – Dutse.
Imo State – Owerri.
Kaduna State – Kaduna.
Kano State – Kano.
Kogi State – Anyigba, Lokoja.
Kwara State – Ilorin.
Lagos State – Jibowu.
Niger State – Minna, Suleja.
Oyo State – Ibadan.
Plateau State – Jos.
Rivers State – Port Harcourt.
Sokoto State – Sokoto.
Customers who do not reside around the above mentioned locations are advised to re-check with Benuwatts (via contact form) before making any Order/payment.
PAYMENT:
Benuwatts only accepts full payment for products before (processing and) delivery.
This payment can be done through cash payment in the bank or mobile/online transfer.
Bank details for payment will be automatically sent to customers' email upon successful placement of order.
WARRANTY:
In line with its warranty policy, Benuwatts offers a six months warranty on this product.
Advantages of Benuwatts Reinforced Tarpaulin (RT)/Ponds:
– Tough and light weight with high tensile strength; can withstand wear and tear
– Non-toxic and non-corrosive to water and fishes
– Durable and long lasting, with virtually no maintenance cost (unlike concrete ponds)
– Less expensive compared to concrete ponds or plastic tanks
– Benuwatts RTs, unlike plastic tanks, offer larger surface area for oxygen exchange and fish mobility which greatly enhances fish growth
– Benuwatts RT's can easily be dismantled, folded and stored away (or moved to another location), thereby making it ideal for tenants
– Suitable for small scale fish farming in areas like compound, backyard, garage, garden, etc.
– Ideal for large scale fish farming investments/projects in open fields
– Availability of size customization to suit a variety of land area/farming projects
– RTs from Benuwatts are UV-stabilized, and can therefore withstand extreme weather events occasioned by climate change.
– Low height of 4 feet gives you easy access to monitor the fishes
– Light colours do not only make it easier to see the fishes, but also beautify your farm
Other Applications
Benuwatts Reinforced Tarpaulin (RT) is a special grade of quality tarpaulin with particularly high tensile strength that makes it suitable for tough applications, including fish pond construction; industrial and home water storage; rainwater harvesting; irrigation; sewage water storage; storage of water for concrete mixing; and storage of diesel, crude oil, and food oil.
They are also used for construction of quality tents and makeshift shelters, as well as other innovative applications in place of concrete walls/buildings.
The tarpaulins are frequently used by agriculturists and farmers; construction and building engineers; humanitarian aid, public works and civilian rescue organizations.