Sale!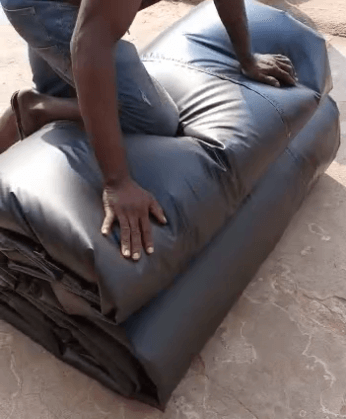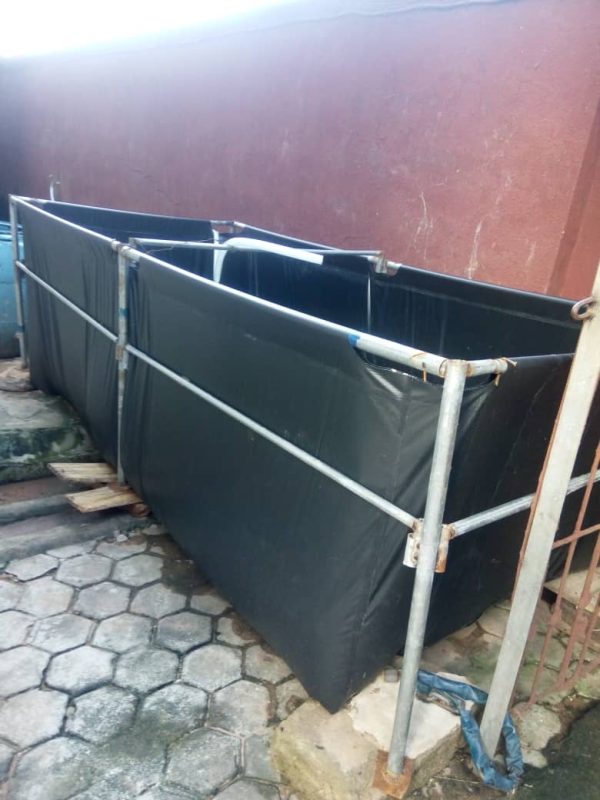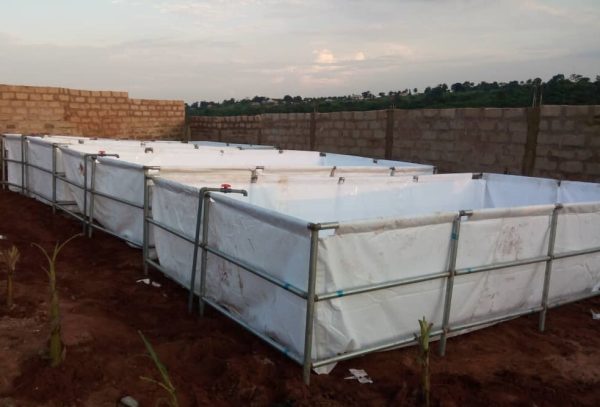 Mobile Fish Pond Tarpaulin For 1000 Fishes: Reinforced,15x15x4 ft
This reinforced tarpaulin for mobile fish pond can contain about 1000 matured catfish.
For detailed information on payment terms, shipping locations, installation, warranty, etc., see the "DESCRIPTION" and "SPECIFICATIONS AND OTHER DETAILS" tabs.
Description
This "Mobile Fish Pond Tarpaulin For 1000 Fishes" can be used for the construction of tarpaulin fish pond, otherwise known as movable fish pond, mobile pond or tarpaulin pond, that has the capacity to contain up to one thousand matured catfish, on average.
This means it can contain about double (or more) if the fishes are at juvenile or fingerlings stage.
Its dimensions are 15 feet (length), 15 feet (width) and 4 feet (height). When filled to the brim, its volume is about 25, 000 (twenty five thousand) liters.
It is produced from reinforced tarpaulin, the best grade of tarpaulin meant for fish pond.
With this tarpaulin, you can easily set up fish pond/farm anywhere you want; be it on your farmland, at your backyard or even in your sitting room!
If you place an order for this fish pond tarpaulin, it will be produced and way-billed it to your location.
When produced, the tarpaulin takes the shape of a fish pond and has provisions around the top through which you can pass your frame material in order to set it up into a complete fish pond.
This "Mobile Fish Pond Tarpaulin for 1000 Fishes" does not come with any frame material or accessory, so you are at liberty to purchase your frame material of choice (be it wood or galvanized pipe) for construction and installation.
See the "SPECIFICATIONS AND OTHER DETAILS" tab for more information, including colour availability, payment terms, shipping locations, warranty, installation, etc.
Condition
| | |
| --- | --- |
| Condition | New. Produced upon request. |
Tarpaulin Type
| | |
| --- | --- |
| Tarpaulin type | Reinforced tarpaulin. |
Tarpaulin Dimensions
| | |
| --- | --- |
| Length (feet) | 15 |
| Width (feet) | 15 |
| Height (feet) | 4 |
Colours
Available colours
Our reinforced tarpaulins come in a variety of colours.
 
But the specific colours available in the warehouse for customers to select from can only be confirmed at the point of production, after payment.
 
 
If you have some colour preferences, kindly use the note section at the Checkout page to state three colour preferences and we'd do our best to work with that.
Payment
Payment terms
Benuwatts only accepts full payment for products before processing and delivery.
 
This payment can be done through cash payment in the bank or mobile/online transfer.
 
Bank details for payment will be automatically sent to customers' email upon successful placement of order.
Pay via Escrow Lock Buyer Protection Service
We accept payment through EscrowLock buyer protection service.
EscrowLock offers buyer-protection service for a fee, where, instead of sending payment directly to us, you (the buyer) send the payment to EscrowLock.
 
There, the payment gets locked and will only be released to us when you receive your product.
 
 
If you'd like to use EscrowLock, finish placing an order here and use the information in the Order Invoice that you will receive via your email to process a transaction on EscrowLock website.
 
Such information include your name, email address, our company name and email address, the order details (order ID, products and quantity), and the total amount.
Shipping
Shipping locations
After production, the tarpaulin is transported from our factory to Onitsha (where there are more motor parks and transport companies plying different locations in Nigeria) for onward shipping/way-billing to the customer.
 
Most state capitals can be accessed from Onitsha. 
 
Certain towns outside of state capitals can also be reached. 
 
A list of confirmed locations we can ship to can be found below.
 
Note:
 
In case you are not sure if we can send to your location, the simple rule is this: if there is a direct vehicle plying your location to Onitsha, then we should be able to use that to ship tarpaulins to you.
 
So kindly check and inform us.
 
Another option is to use NIPOST, but kindly note that that will require adjustment in shipping cost and delivery time to match that of NIPOST.
 
 
Confirmed locations we can ship to include:
 
FCT, Abuja – Utako district.
 
Abia State – Umuahia.
 
Akwa Ibom State – Uyo.
 
Anambra State – Awka, Onitsha, Nnewi.
 
Bauchi State – Bauchi.
 
Benue State – Makurdi.
 
Bornu- Maiduguri.
 
Cross River State – Calabar.
 
Delta State – Abraka, Asaba, Sapele, Warri.
 
Ebonyi - Abakaliki.
 
Edo State – Benin City.
 
Enugu State – Enugu, Nsukka.
 
Jigawa State – Dutse.
 
Imo State – Owerri.
 
Kaduna State – Kaduna.
 
Kano State – Kano.
 
Kogi State – Lokoja.
 
Kwara State – Ilorin.
 
Lagos State – Jibowu.
 
Niger State – Minna.
 
Oyo State – Ibadan.
 
Plateau State – Jos.
 
Rivers State – Port Harcourt.
 
Sokoto State – Sokoto.
 
Taraba - Jalingo.
Doorstep delivery
Except otherwise stated or agreed, the transport companies that we use for shipping tarpaulins do not offer doorstep delivery and the shipping cost paid by customer does not cover for such.
 
You will need to pick up your order from the motor park.
 
 
If you desire doorstep deliver, whether to your home or office, you may make separate arrangement for that with a delivery company in your location.
 
In that case, you should input the name and phone number of the delivery agent (or company) into the shipping field during checkout.
 
This information will be forwarded to the transport companies so that they can release your order to whatever representative that you send.
Warranty
Warranty
Benuwatts warrants to take responsibility (to a reasonable extent) and provide support for any problems faced with this tarpaulin which is as a result of factory defect during production.
 
This is for up to one month after purchase of the tarpaulin.
 
Any issues that develop that are not related to factory defect are not covered under this warranty.
Warranty Condition
Warranty is offered on this product upon the following conditions:

 
 
1). Careful Handling:
 
Handle new tarpaulin with care.
 
The characteristic of reinforced tarpaulins from Benuwatts is that they are light weight and easily workable when they are just out from factory.  
They set (i.e. become tough) about two weeks after installation due to interaction with water, weather and the environment.  
It is vital to handle new tarpaulins with care, at least until they set, as this warranty does not cover for any issues that result due to mishandling by customer.
 
 
2). Install Properly.
 
It is important that you install the fish pond tarpaulin properly.
 
This includes ensuring to put a horizontal bracing for every one foot (from the bottom) that you intend to fill water to.
 
 
3). Warranty Activated.
 
Warranty for this product is only available when activated within the first three days after receiving the tarpaulins.
Activating warranty
Within the first three days upon receiving your tarpaulin(s), install and test them out and send us three clear pictures of the installation.
 
The pictures should show the tarpaulin fish pond(s) in full and taken from different angles (one of which must be the side that has Benuwatts label on it).
 
They should be sent as attachments in reply to any of the emails received from us (particularly the email acknowledging receipt of payment).
 
Doing this does not only help us take note of the tarpaulins (for after-sales support) but helps us determine if you have installed the fish pond tarpaulins correctly.
 
Kindly note that any pictures sent becomes the property of Benuwatts and can be used by us without any sort of restriction or copyright protection from you.
Installation
Sample videos
The following 3 sample videos, made by a customer, give an idea of how to go about construction of the needed frame for setting up the fish pond tarpaulin.
 
Although galvanized iron pipe has been used in the videos, similar idea can be employed when using wood, bamboo or any frame material of choice.
Video 1: Construction of galvanized pipes for mobile fish pond
Video 2: Mounting the tarpaulin unto the galvanized iron pipe frame :
Video 3: Constructing drainage channel for the mobile fish pond tarpaulin
Only logged in customers who have purchased this product may leave a review.